Trafalgar Studios 2
Trafalgar Studios 2
14 Whitehall, London SW1A 2DY, United Kingdom, London SW1A 2DY
Trafalgar Studios 2 Safety Policy
Health & safety measures
Paperless or print at home tickets
Visitor measures
Cash free venue - contactless payments only
Trafalgar Studios is London's most exciting new venue. Formerly The Whitehall Theatre until 2004, is a West End theatre in Whitehall, near Trafalgar Square, in the City of Westminster, London. It is a unique development with two intimate, flexible and dynamic performance spaces -Studio 1 and Studio 2. Trafalgar Studios prides itself as a starting place for new productions to find their home in London.
The smaller studio, Trafalgar Studio 2 features innovative work from both national and international companies. Shows featured in the past at Trafalgar Studios 2 include: The Trials of Oscar Wilde, Sikes And Nancy, and Miss Havisham's Expectations.
The theatre was Grade II listed by English Heritage in December 1996, noting "The auditorium has a decorative cohesion and prettiness rare in theatres of its day, and has the best surviving original fabric of this type of theatre".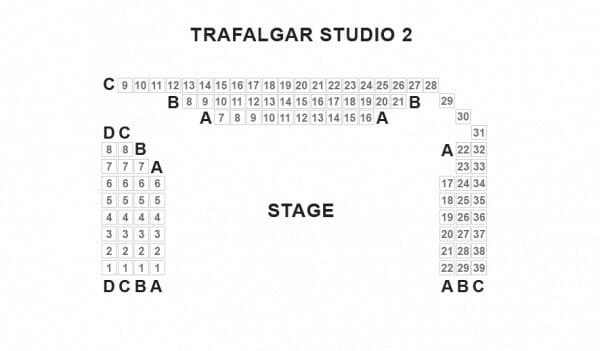 There is nothing currently showing at Trafalgar Studios 2. Sign up to receive for priority updates about upcoming shows at Trafalgar Studios 2.
Trafalgar Studios 2 is located in London. The full address is Trafalgar Studios 2, 14 Whitehall, London SW1A 2DY, United Kingdom, London SW1A 2DY.